Strictly Promotional Posts
August 17, 2017
PAsoftwash was tasked to "Get Ugly Off" this Paver Patio.  After it was chemically treated, pressure washed to remove contaminated joint sand and ugly stains, we resanded and compacted the paver joints with PolySweep joint sand.
After allowing joints to harden and dry out, we applied Trinic Stamp Shield Sealer.
We thank Earthcraft Landscaping for the referral and look forward to keeping their beautiful work looking its best for many years to come.
Hardscape surface restoration and maintenance sealing is a specialized service. Not too many companies want to perform this service, and yet it is a vital step to preserving hardscape.
We love giving pride of ownership back to our customers.  This particular homeowner was getting ready to host a family reunion and was so pleased to have their outdoor area looking brand new for the upcoming event.
We even received note that the homeowner took the time to hand write thanking us for the work that was completed.  Give us a call at 724-201-9274 or visit us at pasoftwash.com to request an onsite estimate to discuss your project. We clean everything from the top of your roof down to the hardscape and everything in between. 
-- Edited by Steve Salley on Thursday 17th of August 2017 01:36:32 PM
July 20, 2017
We all work hard to get the occasional review from a happy customer. Most of us go out of our way, offering a good service at a fair price and at the end of the job find something small to clean as a way to say thank you. I have been cleaning up some emails and also checking into places I haven't been in a while. One was Angie's List. I had no idea we have done so many things for AL members this years so now I will post a few and mention... Yes! We are proud!
"We actually didn't hire this company but wanted to leave a review because he was so helpful. He was too far away and the services we need help with were too small - but he took the time to offer us another contact number - something not a lot of companies are willing to do. I was impressed with his professionalism and helpfulness. It isn't often that one finds someone willing to go above and beyond - so I'm guessing he will do this for your job."
"I just wanted you to know how pleased we were with our house when we got home yesterday.  You did a wonderful job!!  We never realize how dirty it is until you have been there."
"Brett, your men came as scheduled this morning.  You've chosen them well.  They were polite, helpful, and did a very good job on the roof and the house.  The house looks better than it has in years.  Wanted to let you know that we are satisfied customers and appreciate doing business with a company that does what it says."
Blue Ridge Exterior Cleaning is willing to go the extra mile, even if you don't hire us we will do our best to help you with your project.
July 17, 2017
PAsoftwash helped to clean up this homeowner's gorgeous outdoor entertainment area in Indiana, PA.  This homeowner's aggregate patios surrounding the swimming pool were black and stained but after our non-pressure chemical softwashing we we able to restore its beauty.  Steve always goes above and beyond for his customers, we call it giving them the "baker's dozen" but it is those little extra details and touches that Steve enjoys providing to homeowners. At this project Steve and Anthony came across a concrete shuffleboard that had been neglected and forgotten about due to it being covered in dirt, stains and algae. However, after it was chemically cleaned and treated its ready for their outdoor summer parties with friends and family.  We treat all delicate exterior surfaces to remove organic growth, stains, mold and algae. Give us a call 724-201-9274 and get your outdoor areas ready for all your summer parties.
July 18, 2017
PAsoftwash helped to clean up the Alucobond exterior at a local car Dealership here in Indiana County - Colonial Motor Mart.  Alucobond needs to be cleaned and maintained to keep it looking its best.  We used our completely safe non pressure softwashing system to clean, sterilize and restore the Alucobond on this commercial property. Check out these same day results!  Give us a call for all your commercial exterior cleaning needs 724-201-9274
July 8, 2017
As can be seen by the photos here in our post this massive roof measures well over 12,000 square foot. The owners of this estate called us to do a free no obligation roof cleaning demo  last year, which our competitors failed to do. The owners waited a year and a half to insure the roof would stay clean during that period. Our trained and dedicated staff of Pocono Non-Pressure Roof & Exterior Cleaning performed all the algae, moss and lichen removal using our state of the art commercial non-pressure roof cleaning equipment and trucks recently.
For more information on your  exterior cleaning needs please contact us by phone at 570-994-6918 or through our website "here"
-- Edited by waxman18324 on Saturday 8th of July 2017 08:06:18 PM
July 7, 2017
We cleaned a tile asbestos roof for a roof coating company so they could coat it.
June 23, 2017
The Visulite Cinema called us to help with their roof and drainage problems. First there was way too much debris on their 5 year old white membrane roof that was blocking the scupper. The elbow at the bottom of the downspout was gone so two things were happening, water was staying on the roof and what was coming off was getting into the theater since there was nothing to divert it from the building. We took 840 lbs of debris to the landfill, most of which was cinder blocks.
They now have a clean roof without any debris. We made sure there was no run off getting into the streams using our reclaim unit and pumping the cleaning agents and roof dirt into the toilet.
June 6, 2017
-- Edited by John Aloisio on Tuesday 6th of June 2017 04:12:06 PM
June 9, 2017
We enjoyed giving this homeowner pride of ownership back after we used safe non pressure chemical "softwashing" on their white siding to remove ugly stains and algae. We love seeing these same day results to restore homes to looking brand new.   Give us a call at 724-201-9274 so we can set up a time to come out and look at your home and see how we can get "Ugly" off your back.  Also check out our website for more information www.pasoftwash.com
-- Edited by Steve Salley on Friday 9th of June 2017 09:22:54 PM
June 7, 2017
These commercial buildings use to be the home of nTelos Wireless. They are now occupied by DuPont Community Credit Union and Shentel (Shenandoah Communications Company). These buildings haven't been cleaned in years so they called Blue Ridge Exterior Cleaning to soft wash all of the buildings since high pressure can damage Dryvit and we have the equipment to take care of a project this size.
May 27, 2017
We were approached by a roofer to clean this TPO (membrane) roof at this local eatery. The hood cleaning company had obviously not been performing a proper and thorough cleaning for quite some time and the grease catch basin was not even attached to the fan system, allowing vented oils to spill on the roof. Leaks had formed inside, and the roofer was unable to even diagnose the issue unless the roof was either cleaned, or removed and replaced.  
Very few parties involved in the process had hopes that a cleaning could provide the results that were needed, due to the advanced and extreme conditions. However, Spray Wash Exterior Cleaning was able to clean this mess and restore the roof to a condition where it could be inspected and repaired. Our Service basically kept this restaurant for having to replace their roof!
When you have grease issues, membrane roof problems or need a commercial cleaning, call Spray Wash. We can handle the most difficult tasks!
May 15, 2017
We cleaned this cedar roof in Sandwich Massachusetts. All of the cedar shingles were covered in bacteria and lichen so the customers called us to take care of their problem!
Visit us at Sandwich Roof Cleaning or call us at 508-209-7795 for a free quote today.

May 23, 2017
A to Z completed a roof cleaning, house wash and deck furniture cleaning at this beautiful home in Falmouth Massachusetts today. We have eradicated all of the roof top algae so the asphalt shingles will last as long as they should!
All of the gutter faces were scrubbed and polished as well! During the job we spotted 2 bird nests so we carefully moved them so that they would not be harmed at all during the process, and I'm glad to say that while we were wrapping up the project I saw one of the mothers back in the nest caring for her eggs!
Take a look at that back yard, this great customer had an awesome spot for their children to play, it was a small Fenway park! Lucky kids!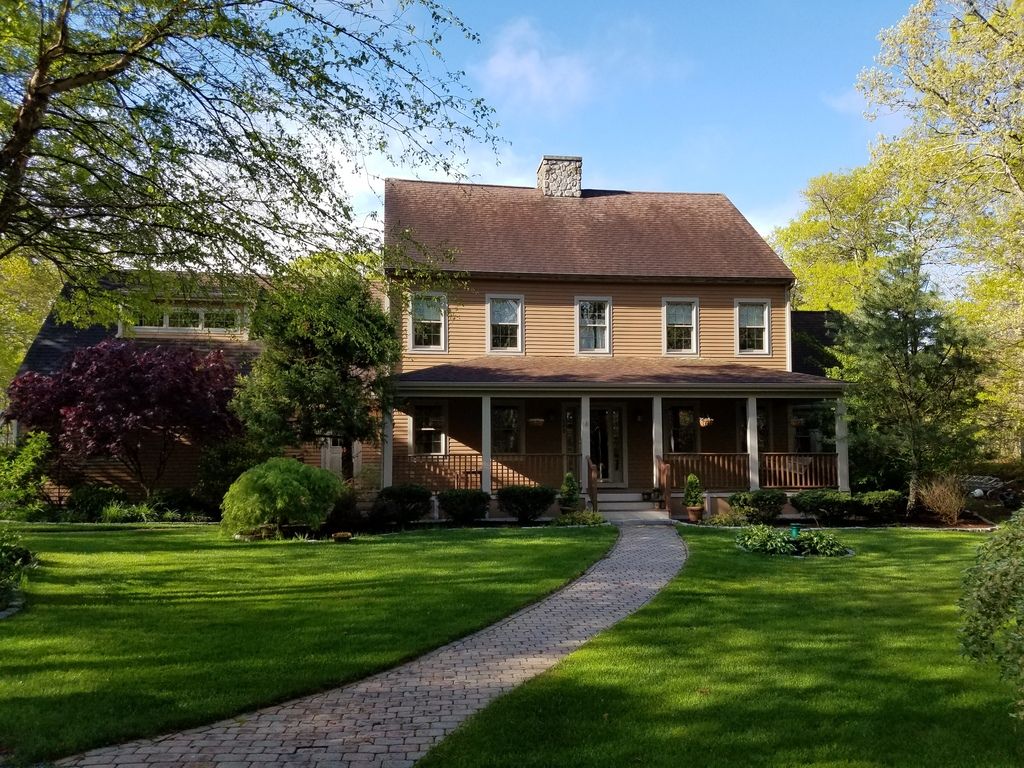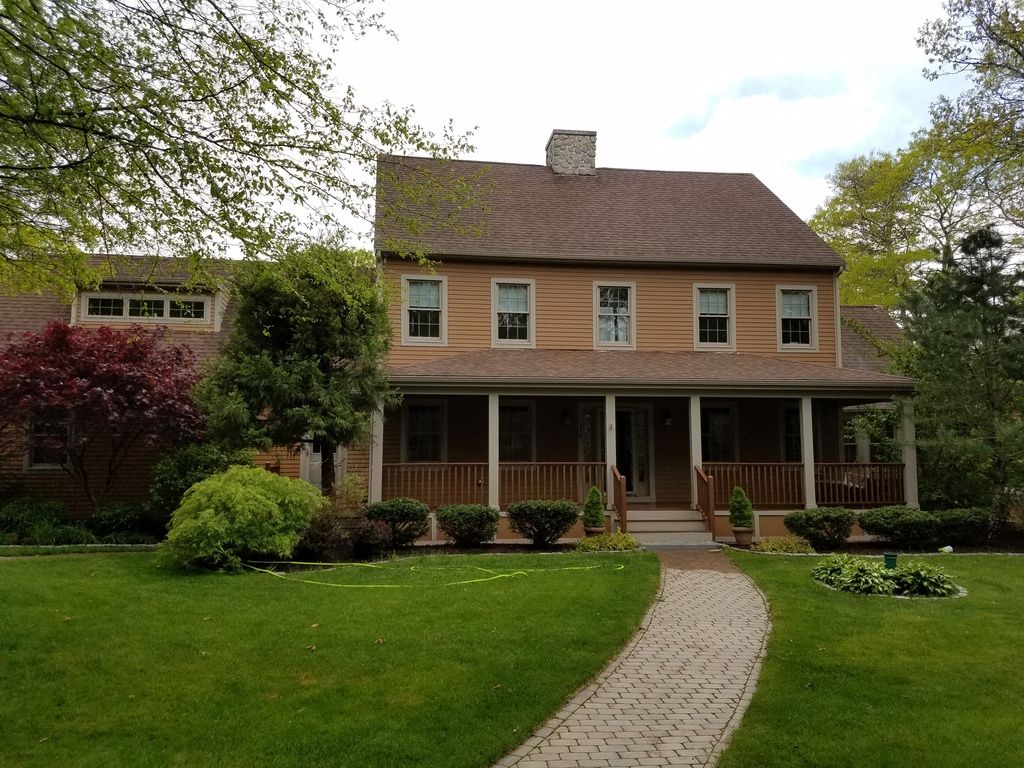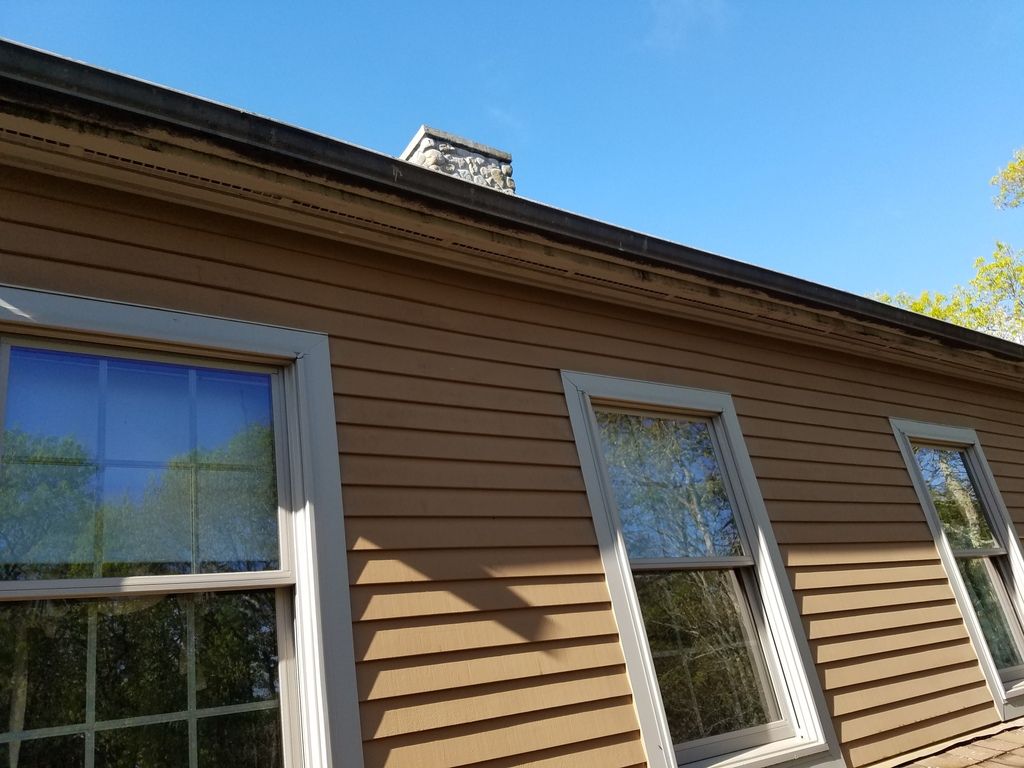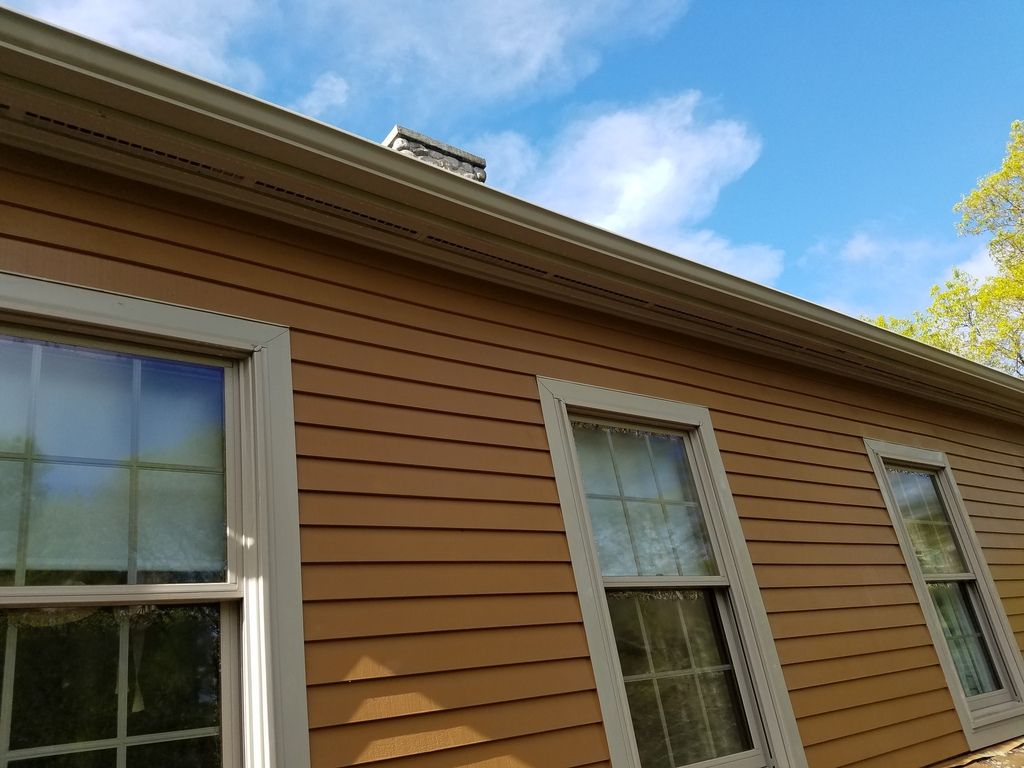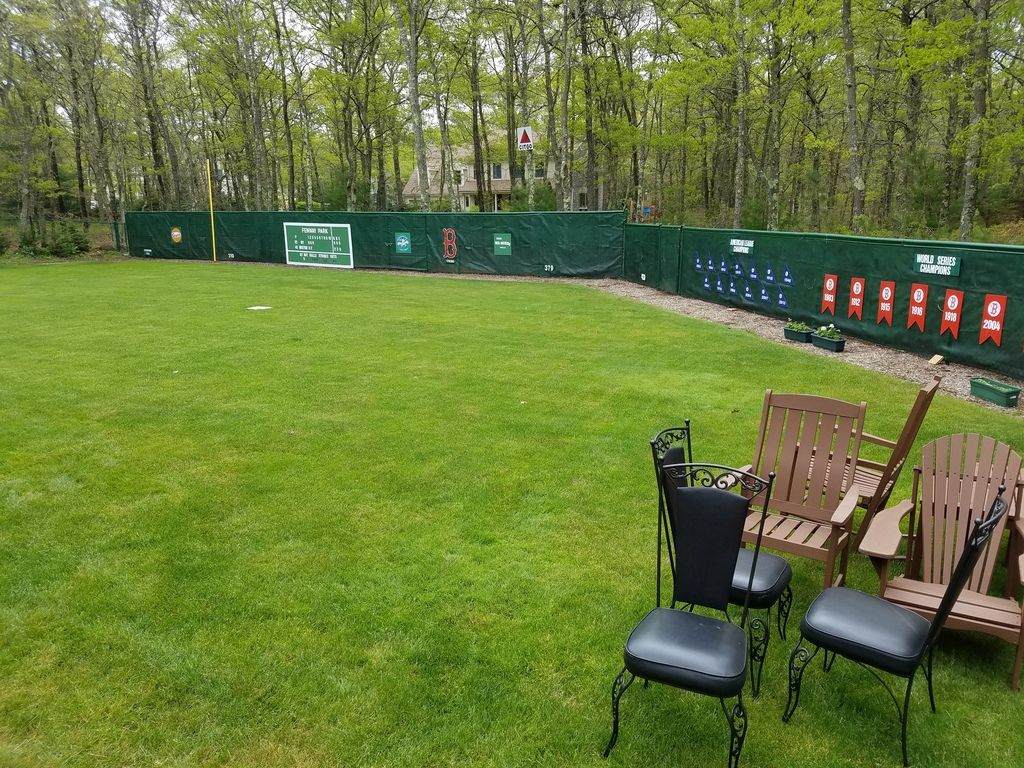 -- Edited by Zach Maynard on Wednesday 24th of May 2017 09:34:49 AM
May 22, 2017
This home had cedar that long ago was stained and then sealed. Most of the sealer had worn off and now the siding just looked dirty! A to Z was called in to take care of this project, and just in time too. They had almost hired a painter to sand down all their siding and then seal it.
We softwashed all of their cedar and now it looks fantastic!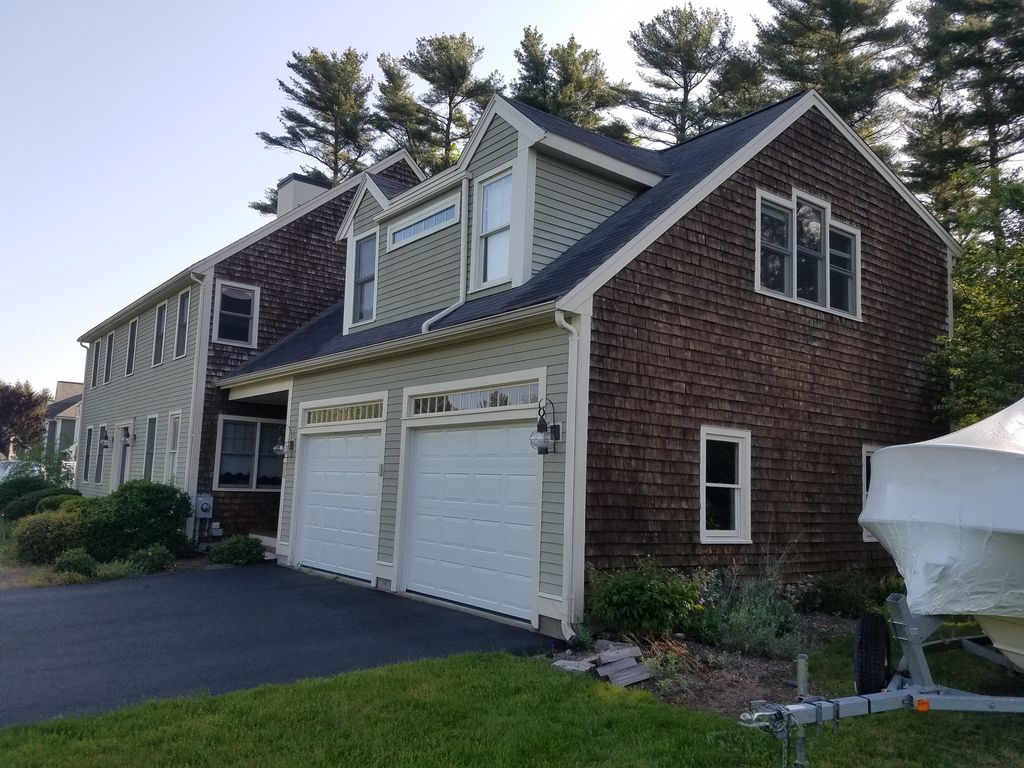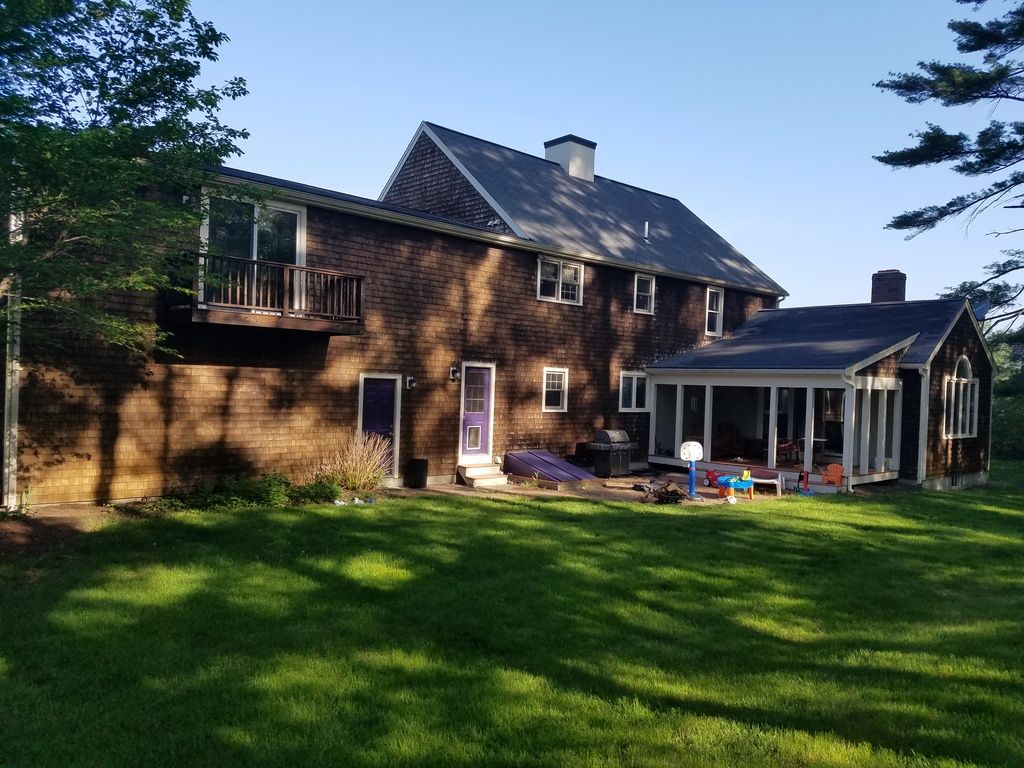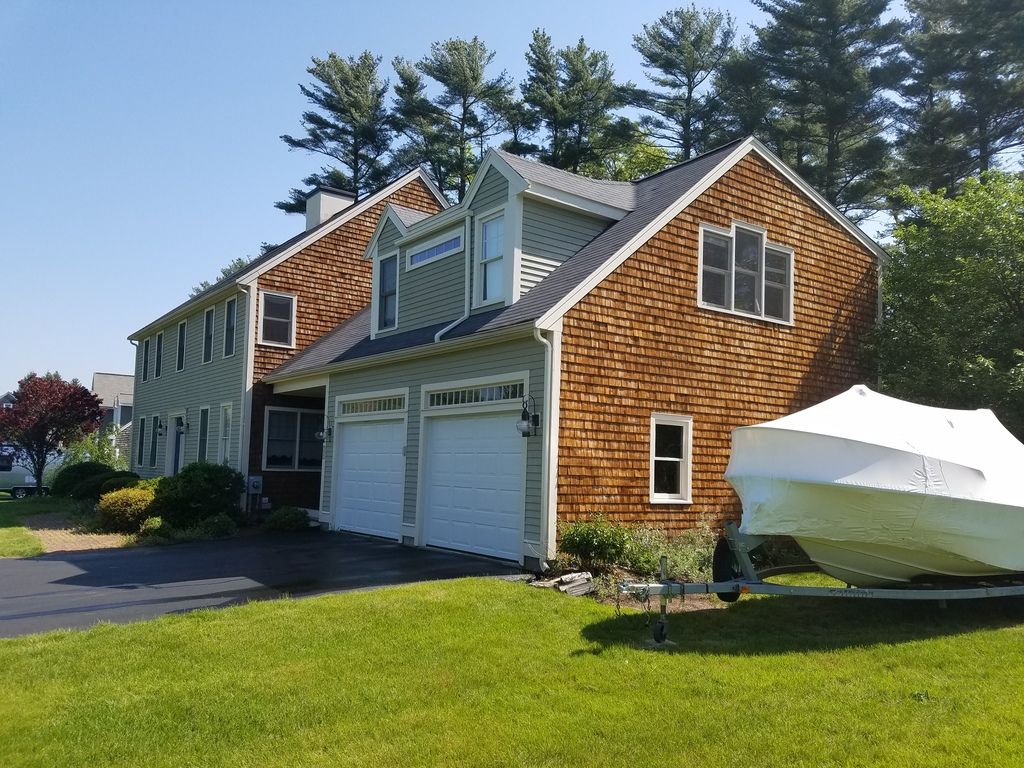 May 23, 2017
We were in Ebensburg, PA last week on Emerald Drive "softwashing" this home. Using non pressure chemical cleaning methods we cleaned the  siding, fascia, soffits,  Stucco, gutters and concrete walkways.  Softwashing is the most effective way to clean delicate exterior home surfaces.  We "Get Ugly Off Your Back!".  Check out these same day results.  Our season is up and running and we are scheduling 2 weeks out for current jobs.  Give PAsoftwash Roof & Exterior Cleaning a call at 724-201-9274 to schedule. Call Today For a Cleaner Tomorrow! 
May 23, 2017
This beautiful home was in Greensburg, PA.  Using safe, non pressure chemical cleaning we eradicated the ugly mold, algae and other organic bacteria that was on the roof.   The black streaks you see on this home are not only ugly-- they are destructive.  Give us a call today 724-201-9274 or visit our website PAsoftwash.com to request a free estimate for services on your home.   
May 18, 2017
A to Z Softwash provided a house cleaning for one of our customers in Bourne Mass yesterday. Algae growth had begun to spread and they needed it cleaned for a graduation party.
Every went perfect and now their home looks beautiful again!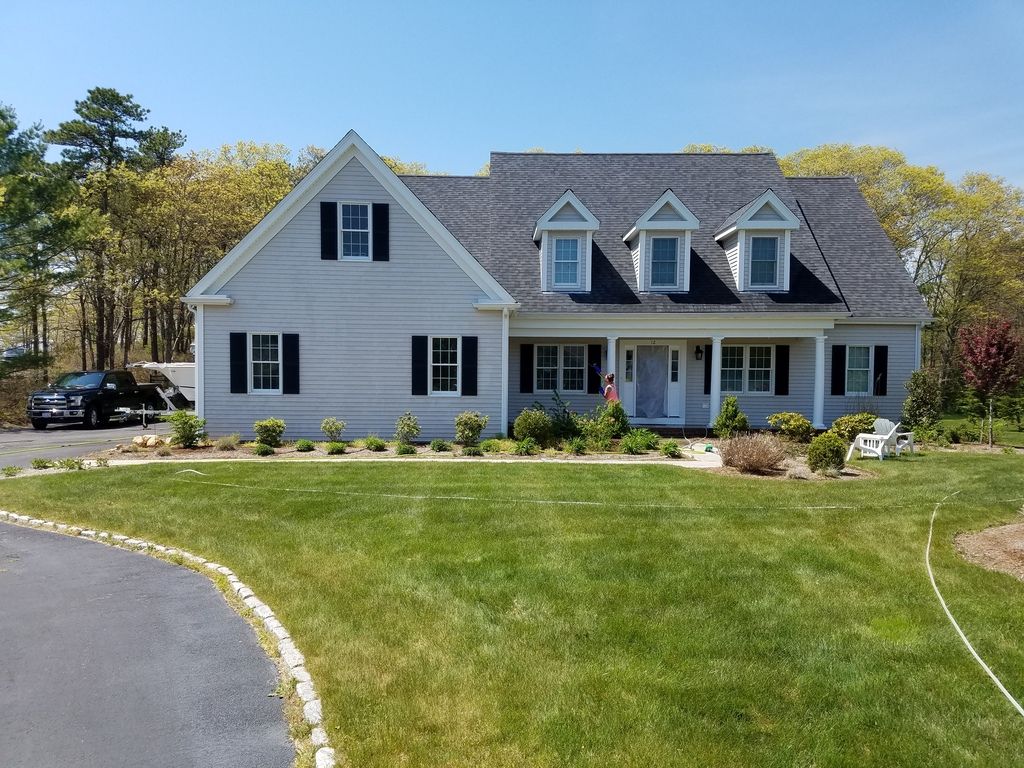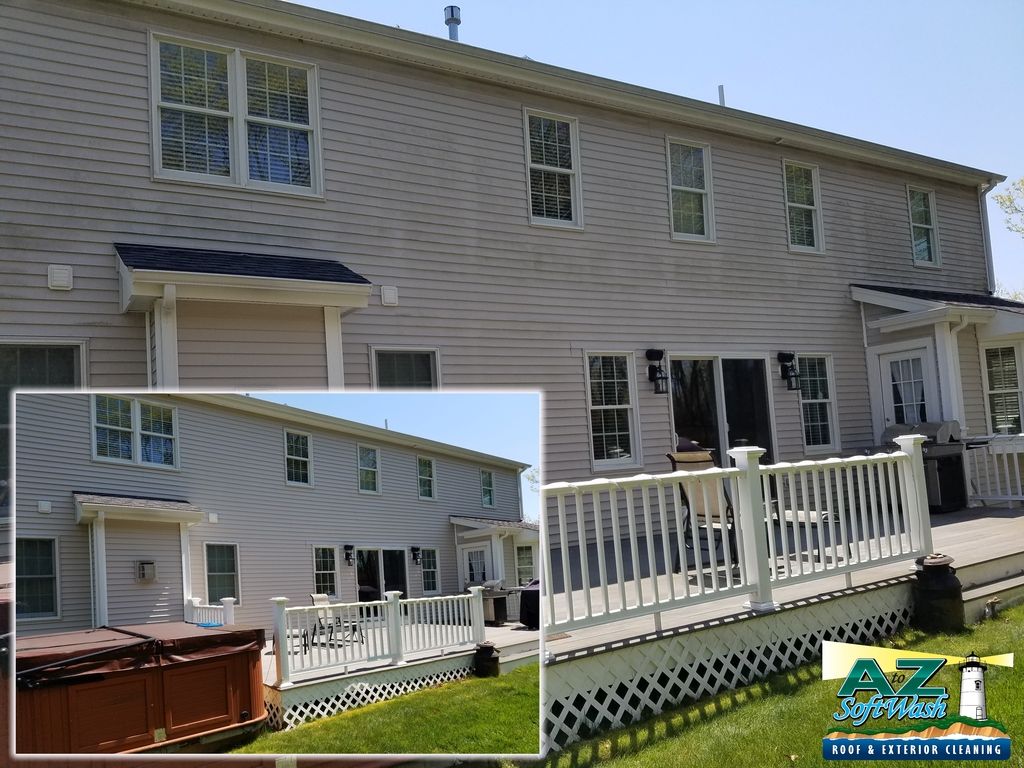 May 15, 2017
Liberty SoftWash soft wash this asbestos roof in Indiana this weekend. It was about 30,000 sq and was able to clean without pressure washing it so the coating contractor could spray his foam. 

-- Edited by Liberty SoftWash on Monday 15th of May 2017 06:09:34 PM
May 8, 2017
If you are in Bundaberg (where we make the best rum) don't hesitate in calling for a free roof cleaning quote.
Cheers,
May 3, 2017
This home located in the beautiful community of Saw Creek Estates in Lehman Township PA was the site of both roof cleaning and pressure washing performed by the trained and confident staff of Pocono Non-Pressure Roof & Exterior Cleaning. The homeowner found us through a simple google search and found our reviews to be the deciding factor when it came to awarding the work on his home. Our staff using our industry accepted methods and professional grade equipment safely and effectively removed the black algae and heavy moss from the roof. While on site we also completely cleaned the siding, fascia, soffits and gutters. Part of the home is three stories and the chimney rises to a solid four stories, which our staff and equipment performed flawlessly.
If your home is in need of a roof and house washing please feel free to contact us at 570-994-6918 or visit our website contact page "Here"
May 4, 2017
The homeowners of this beautiful home located on Bartonsville Woods Road wanted to improve the curb appeal of their home and increase the value as well. Our office at Pocono Non-Pressure Roof & Exterior Cleaning received a call last week asking to provide a quote for the work they had in mind. Once we met with the customer we provided our "Free Quote" on the following work: non-pressure roof cleaning, pressure washing(soft washing) and gutter cleanout. We were contacted by the homeowners advising us to put them on the schedule.
Today, 5/4/17 one of our fully equipped trucks with two of our trained technicians serviced this property without disturbing the peaceful lifestyle of the owners. The roof was serviced removing all black algae from the roof. The gutters were cleaned out and rinsed to remove any and all debri. The vinyl siding, fascia and soffits were cleaning using our tried and true soft washing methods.
For more information on residential and commercial roof and exterior cleaning in the Pocono region please feel free to call us at 570-994-6918 or visit our website estimate page "Here" 
May 2, 2017
This vacation home located in Effort, PA is being placed on the market for sale by the owner who lives in Raritan New Jersey. Their realtor suggested that to improve the curb appeal and value of the home the roof should be cleaned immediately. The homeowners called the staff at Pocono Non-Pressure Roof & Exterior Cleaning to provide a non-pressure roof cleaning quote. We did so and emailed the quote to the homeowner in NJ. We were notified by the homeowners to move forward with the roof cleaning, which we did today 5/2/17. The black algae was eradicated and the moss and lichen growth was terminated.
For more information on our roof cleaning and other services please feel free to contact us at 570-994-6918 or visit our website information page "here"
May 1, 2017
Is your vinyl siding looking like this? These new homeowners in County Club of The Poconos wanted to get the place cleaned up before Memorial Day weekend so they contacted Pocono Non-Pressure Roof & Exterior Cleaning to provide them with results. As a result driven company we cleaned the vinyl siding, dryvit(EIFS) and deck. The results were immediate using our soft washing methods. As can be seen the photos below all algae, dirt and oxidation was removed in an effective and safe manner from this three story structure.
If you need our services before the holiday please reach out to us at 570-994-6918 or contact us at our website "here".
April 24, 2017
This beautifully landscaped property in Swift Water PA was the job site for the staff of Pocono Non-Pressure Roof & Exterior Cleaning today, 4/24/17. Our client in Pocono Township requested us to provide the following services. Soft Washing of all vinyl siding and stone work. Pressure washing the concrete pool deck. Soft Washing of the vinyl fencing. Cleaning of the engineered decking material. Another contractor lacking the appropriate knowledge and necessary equipment attempted to clean these surfaces. As can be seen in some of the photos of the concrete and trex decking he almost caused irreparable damage to the surfaces. Our staff of trained technicians were able to address these issues and help the client. 
For more information on these and other services please call 570-994-6918 or visit our website "here"
April 28, 2017
This home located in Carbon County PA was serviced today, 4/28/17 by the staff of Pocono Non-Pressure Roof & Exterior Cleaning. The homeowner of this log sided home in Towamensing Trails POA in Albrightsville PA wanted the roof cleaned to increase both the curb appeal and the property value. They called us based on our numerous reviews on Facebook, Google and Angie's List. Although our price was a little higher than our competition the homeowner decided that the cost was well worth it as we are a full time full service exterior cleaning provider throughout Carbon and Monroe County.
If your roof is in need of cleaning please feel free to contact us at 570-994-6918 or visit our website "Here"

April 26, 2017
Today, 4/26/17 the staff at Pocono Non-Pressure Roof & Exterior Cleaning serviced this home in Saylorsburg, PA using our non-pressure roof cleaning equipment. Both the house and garage were infested with heavy moss and algae. Matter of fact our staff removed more than one cubic yard of moss, leaves and branches from various parts of this home. This allowed us to remove all black algae and terminate the existing growth of moss and lichen. As can be seen in many of the photos the curb appeal increased and the original color of the shingles is returning.
If your interested in more information on our roof cleaning and moss removal please reach out to us at 570-994-6918 or visit our contact page on our website " here ".
April 27, 2017
Today's project for the staff of Pocono Non-Pressure Roof & Exterior Cleaning was this beautiful vinyl and brick home located in the heart of Stroudsburg, PA. Last week the homeowners invited us to their home to provide a quote for our non-pressure roof cleaning, exterior soft washing of the vinyl siding, pressure washing of the concrete and brick. After speaking with the homeowners they advised us to move forward with the complete package. All work was completed in one day as to not interrupt the continuity of their family life. The results were amazing. The roof returned to it's original color and all moss and lichen was terminated. All algae was removed from the vinyl, brick and concrete.
For information on projects and services like this please call us at 570-994-6918 or visit our website "here"
April 25, 2017
Our team completed this job for a fantastic customer out of Osterville which is a beautiful town located in Cape Cod.
We were hired to clean every surface from the Cedar Roof Shingles, House wash of all the Painted siding, Softwash of the Trex and Pressure Treated decking, and even the vinyl Trellis. Everything came out absolutely amazing and our customer was thrilled!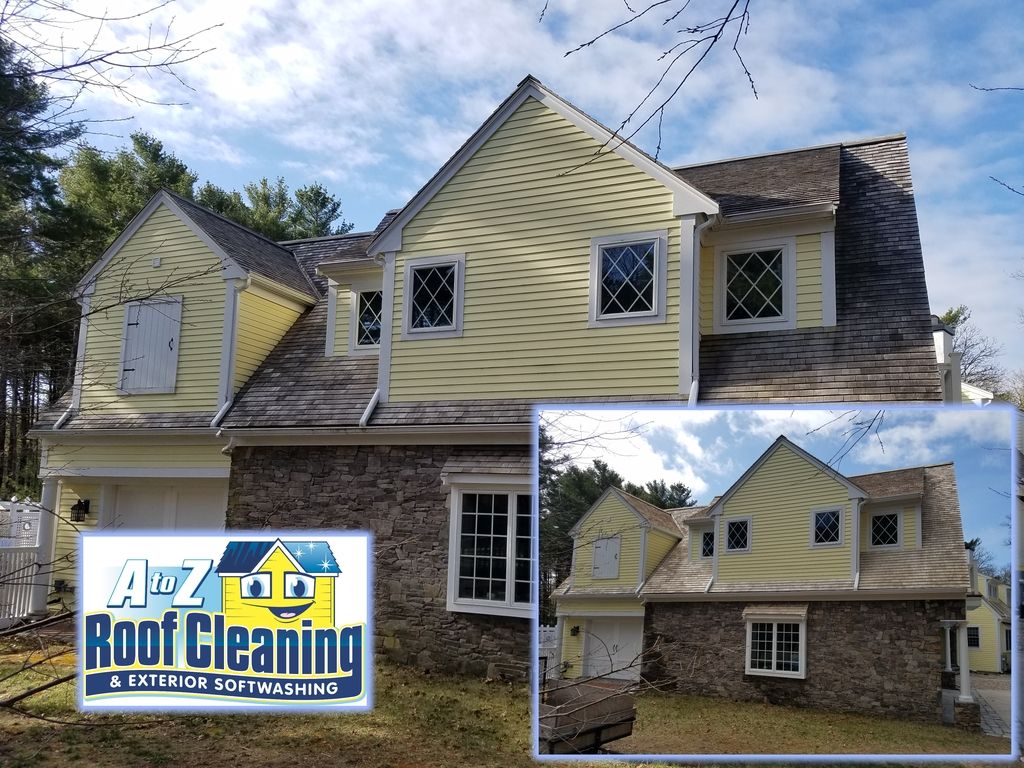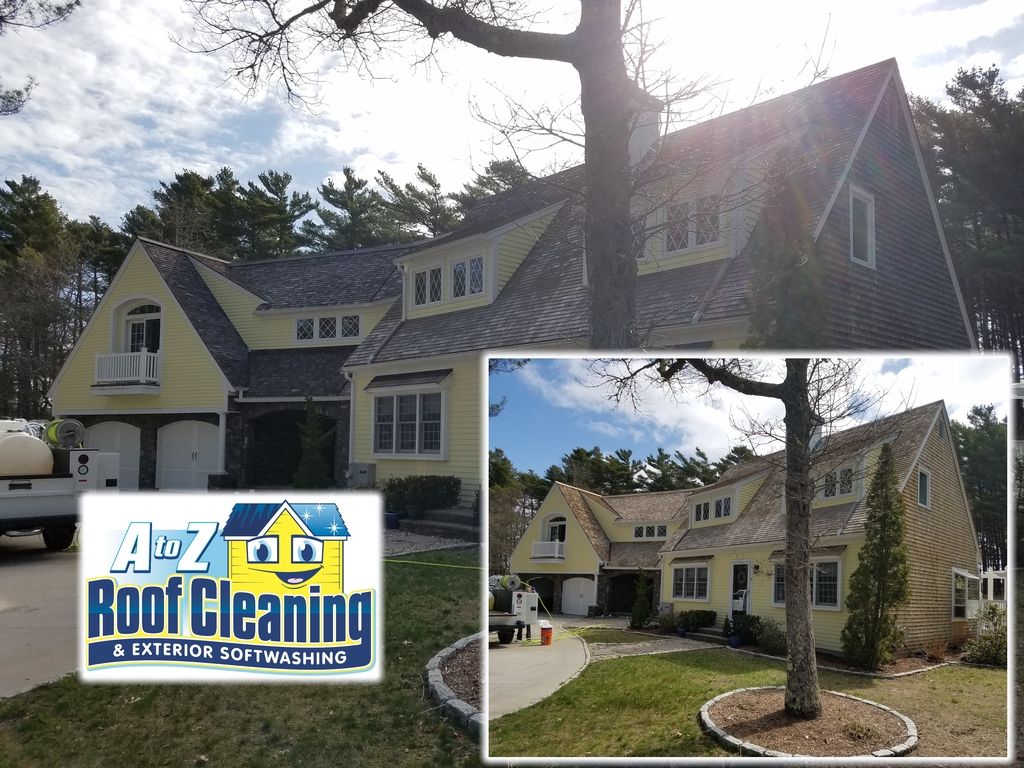 April 23, 2017
As the leading provider of roof cleaning throughout the Pocono region we (Pocono Non-Pressure Roof & Exterior Cleaning) provide our services to both Monroe and Wayne County PA residents. This homeowner called us to prepare his house for an upcoming sale. The home located in the private community of Big Bass Lake was serviced by us on 4/20/17. Our services included roof cleaning, soft washing and deck cleaning. The roof cleaning removed all black algae from the roof and halted the existing growth of moss and lichen. Our soft washing of the exterior vinyl siding removed the green algae and cobwebs around the home. The deck was cleaned to remove the slippery algae on the deck boards eliminating a potential slip and fall issue.
For more information on any of our services please call 570-994-6918 or visit our website "here"